OLIVER STERNO
ABOUT - A-Z INDEX - CONTACTS - DONATE - FOUNDATION - HOME - REGISTER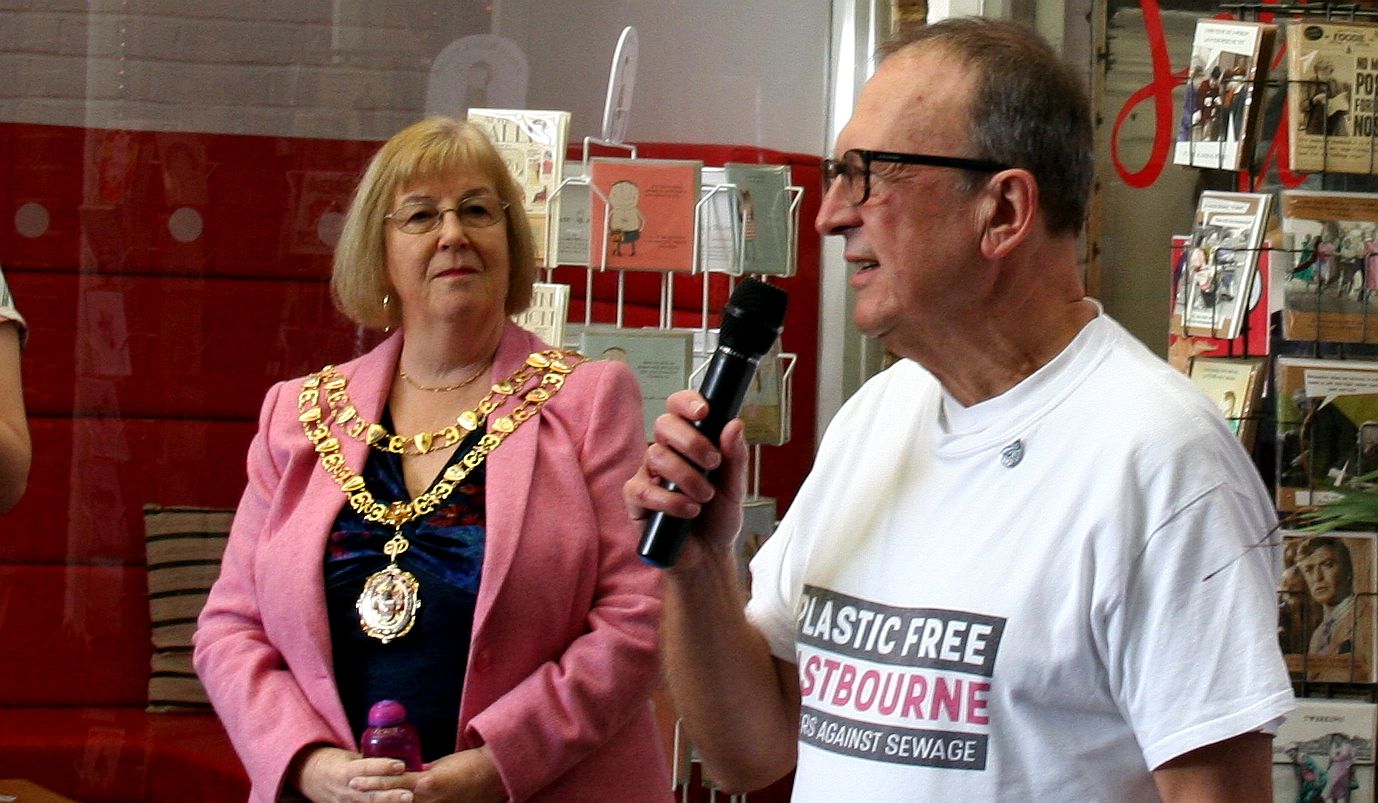 EASTBOURNE MAYOR - Longstanding Liberal Democrat councillor, Gill Mattock, opened the Refill event, praising the efforts of all those involved in making this Refill event happen. Gill is also the deputy leader of Eastbourne council and the lead for financial services. She has served as a councillor for St Anthony's ward since May 2007. Gill moved to Eastbourne in 1971 to study at the Eastbourne Teacher Training College where she qualified as a teacher and met husband Alan in her final year. Oliver Sterno, is seen introducing the Mayor to the gathering of visitors.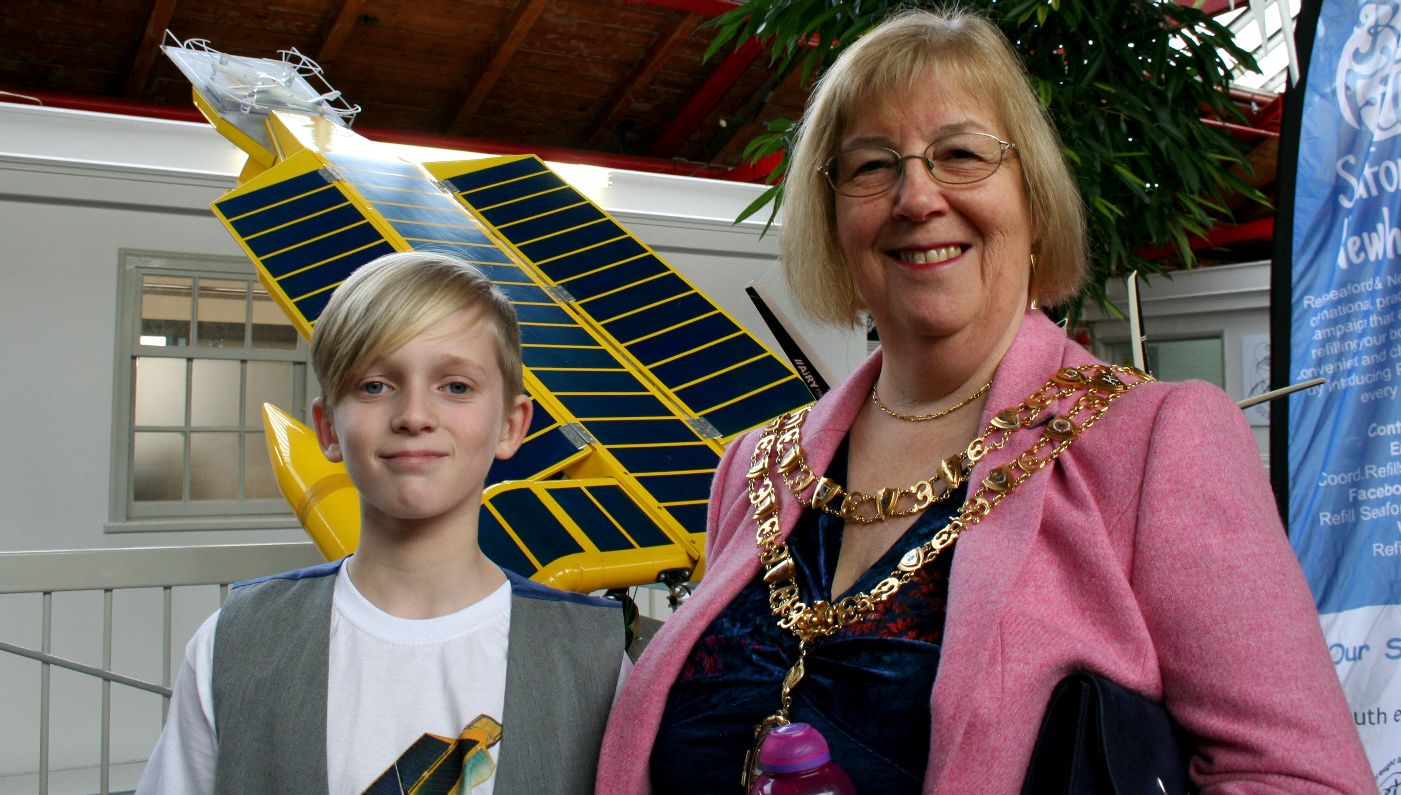 SEAVAX: One of the stands in the atrium at the Enterprise Centre featured the ocean cleaning robot that could begin to reverse the build up of plastic in the oceans, given suitable support from the G20, EU, United Nations, or maybe philanthropic backers where the funding rules of the EU might prevent financial backing. At 10 years old, Ryan Dusart is the youngest volunteer working to develop SeaVax and the Elizabeth Swan, a zero carbon vessel that is helping to lay the foundations of pollution free ocean transport. The Mayor of Eastbourne visited the SeaVax stand among other exhibitors, including Southern Water. Ryan Dusart was pleased to meet the Mayor to explain a little about the work of the Cleaner Ocean Foundation.
Oliver Sterno organised the Refill event in support of Plastic Free Eastbourne, attended by the Mayor, Gill Mattock, Stephen Lloyd MP, Caroline Ansell MP and Gonzalo Alvarez UN UK branch Bexhill.
We consider that in helping the Borough of Eastbourne to become plastic free, that indirectly, he represents the interests of marine life and in doing so is making a significant contribution to ocean awareness campaigns around the world. Such efforts spread the news about toxin build up in our food chain and the menace that is plastic waste.
Oliver is also helping to organise the clean up of parks and other public spaces, by identifying plastic and other waste 'hot-spots' and targeting them for a spring clean in 2019. He is not alone in this endeavor, many other groups are looking to coordinate their efforts to make this happen - so helping to Keep Eastbourne Plastic Free.
Eastbourne Borough Council
Town Hall
Eastbourne BN21 4UG
Tel: 01323 410000
Fax: 01323 430745
E-mail: enquiries@eastbourne.gov.uk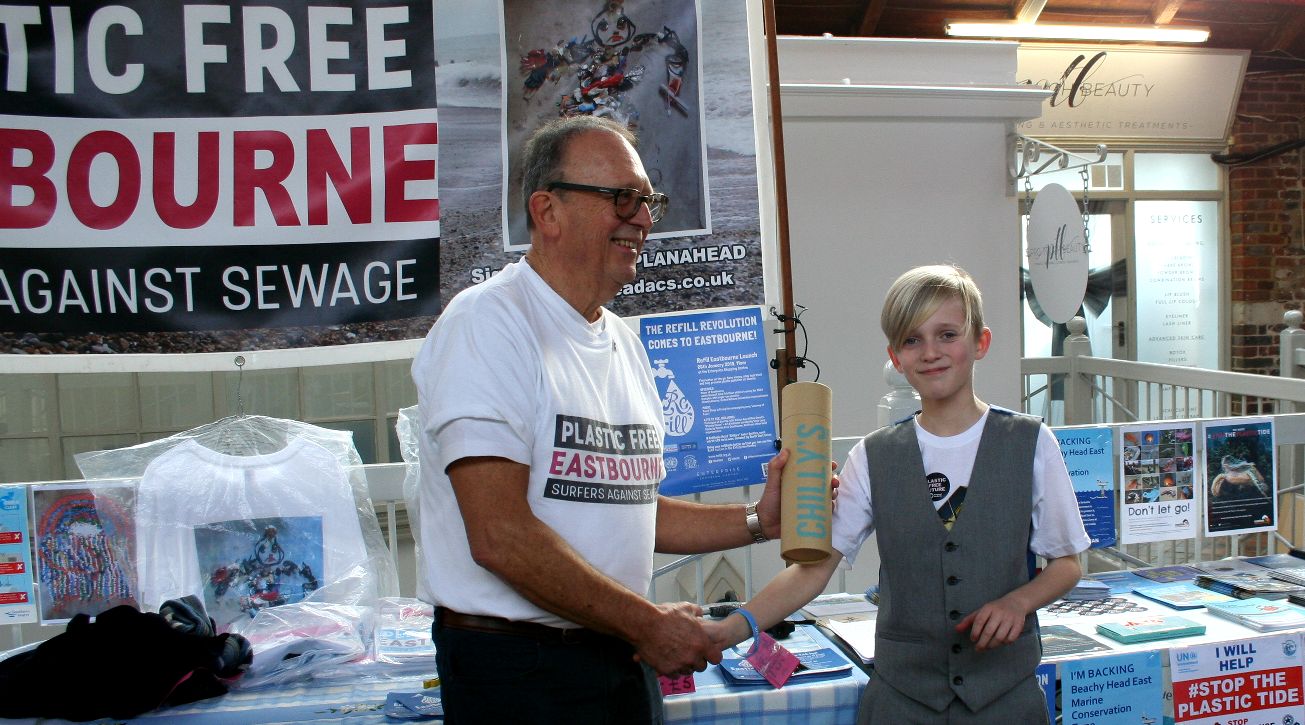 SOUTHERN WATER - A number of Chilly's insulated water bottles were donated by Southern Water as part of the fund raising activities where those visiting the stands guessed at the weight of a bag of plastic bottle caps. Event organizer, Oliver Sterno, is seen here presenting one of the winners with his prize.
The aim of the Cleaner Ocean Foundation is to encourage men and women to dream more, care more and become more in a world of equal opportunity for all, one of the Sustainability Development Goals of the United Nations. You can nominate anyone for a Mister Ocean award who you think is working to protect the marine environment and who you think deserves special recognition for their conservation efforts. Nominations should be for the current year, or a series of long service cumulating in a retirement or other event.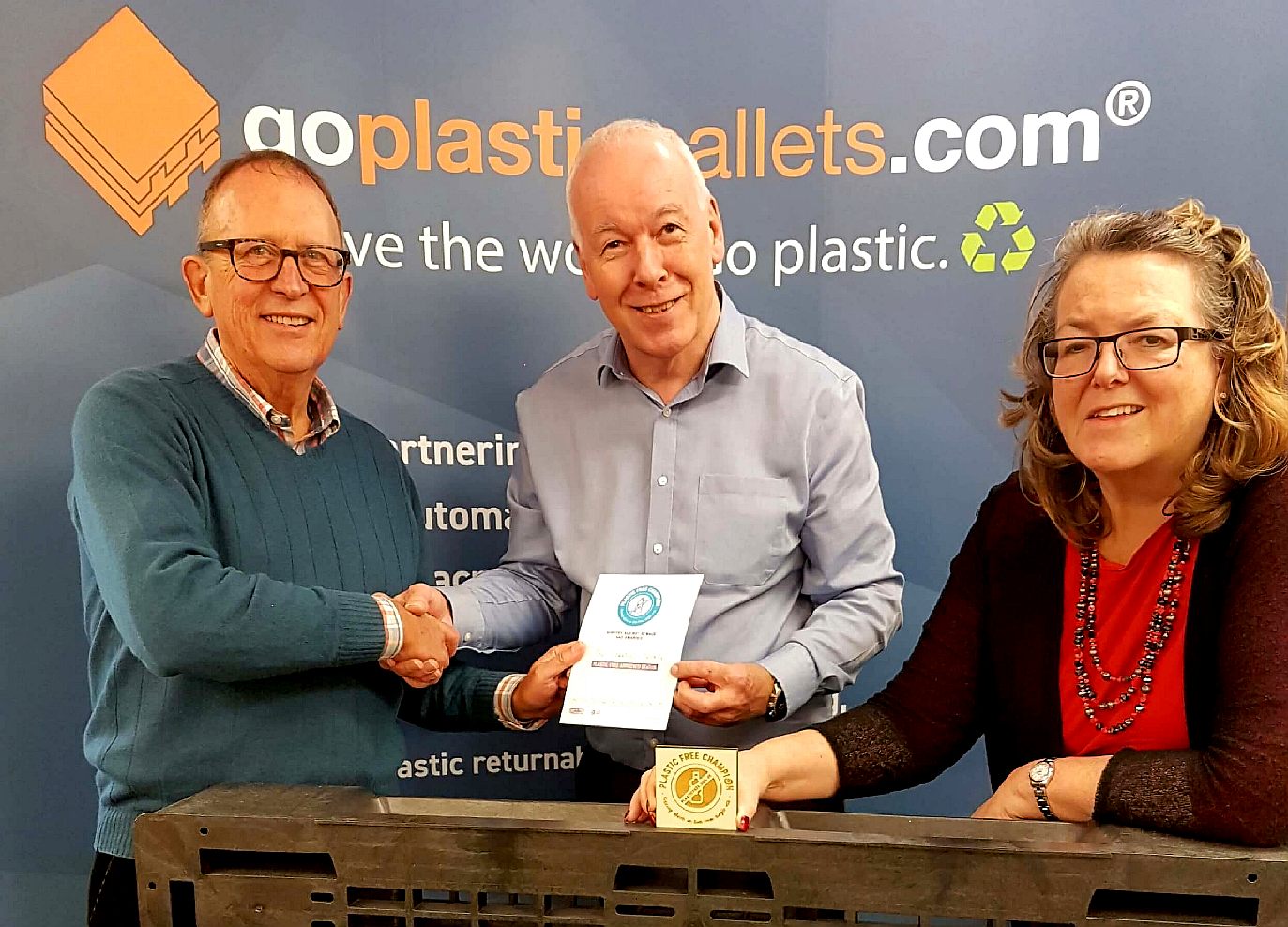 EASTBOURNE CHAMBER OF COMMERCE - Plastic Free Champions – Go Plastic Pallets! Not only do Go Plastic Pallets use recycled plastics to make long lasting commercial containers which last much longer than wooden pallets, they have also removed single use plastics from their business. Managing Director Jim Hardisty is quoted as saying:
"Hard wearing plastics are an important part of modern life while single use plastics are a blight on the landscape and damaging to our wildlife. Re-useable plastic pallets last much longer than wooden ones and are fully recyclable. In fact, many of our pallets are already made from recycled materials. "We recycle as much of our waste as possible and so it makes perfect sense to reduce our use of single use plastics as much as possible. "We are delighted to support Plastic Free Eastbourne and the Chamber of Commerce in reducing single use plastics across town." Jim Hardisty Director
Tel :+44 (0)1323 744057 Email: sales@goplasticpallets.com

Tel: 01323 641144 Email: info@eastbournechamber.co.uk
LINKS & REFERENCE
https://www.goplasticpallets.com/
http://www.eastbourneunltd.co.uk/plastic-free-champions-go-plastic-pallets/
David Stopp performed his song at the Refill event to be held at the Enterprise Centre near the station - in Eastbourne on Saturday the 26th of January 2019. Plastic is an international problem, with the United Kingdom a victim of serious beach pollution as an indicator of the consequences of our dependence of single use plastic for food wrapping. poisoning our fish and polluting our beaches that he decided to write a song about it.
Copyright © Cleaner Oceans Foundation Ltd (COFL) (Company No: 4674774) 2019. Ocean Suite, BN271RF, United Kingdom.