SHEIKH ABID GULZAR
ABOUT - A-Z INDEX - CONTACTS - DONATE - FOUNDATION - HOME - REGISTER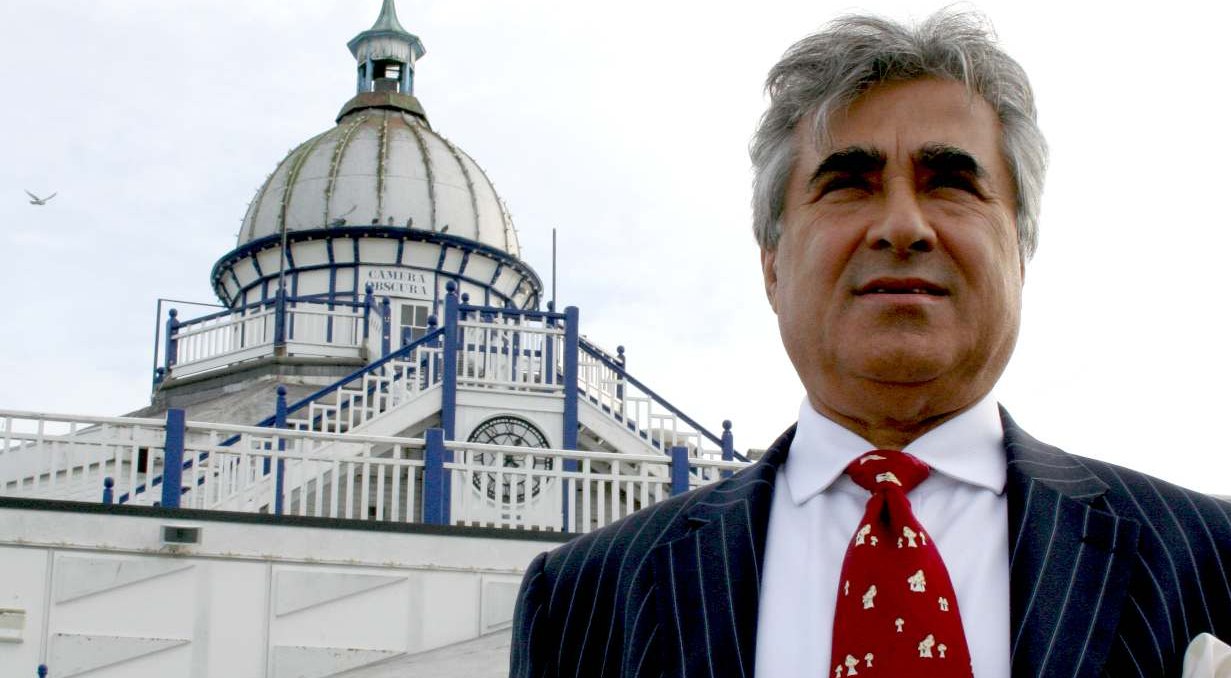 LEATHER TECHNOLOGIST - Sheikh Abid Gulzar began his career in India exporting leather. He mastered all there is to know about this business to become a successful exporter. Then the entrepreneur moved into hotels in Switzerland before settling in Sussex, where he now operates a number of hotels and a nursery service to help working mothers.
Sheikh Abid Gulzar is a hotelier based in Eastbourne who knows no fear. He is a colorful character who likes a challenge. He bought Eastbourne pier after insurance claims had been settled and the then operators, Cuerden Leisure and Crown Entertainment Centers, decided that it was time to bail out, since it was incumbent on them to reinstate the burned down Blue Room. But they were looking at another £5,000,000 million bill for that, with a limited likelihood of recovering such sums from their operation of this structure; according to their accounts. They needed to find a buyer with vision, or appeal to a wealthy philanthropist to take on the project.
Both Eastbourne and Hastings piers are listed buildings (grade II* and grade II) and traditionally loss makers for their operators. Both piers suffered from devastating fires and neglect. Piers were designed as attractions for seaside towns before transport was cheap and widely available. In those days holidays by the seaside were all the ordinary British public could afford, meaning that a stroll across the water on a man-made structure would have been a lovely escape after a day swimming in the English Channel, making sandcastles and eating ice cream.
These days, piers are more of a curiosity, largely ignored by holiday makers as they jet to more exotic locations for less money on package deals, though air travel is partly responsible for climate change according to Greta Thunberg, the teenager from Sweden who inspired the school strikes in 2018, meaning that seaside holidays could one day make a comeback. And so they should.
Pier owners attract local youngsters with arcade machines and casual visitors with tea rooms and snacks, but tourists would not generally plan an outing to include visiting a pier. Eastbourne pier has a night club at the far end that generates an income. Conservative towns with many listed buildings cannot accommodate fairground like attractions that would be incongruous, where Brighton pier is long enough to distance their playground from the city. This presents pier owners with planning problems fraught with pitfalls and expense, no matter how imaginative any approach. This is because councils have a legal duty to protect the historic built environment and to prevent inappropriate development, while at the same time seeking to underpin the coastal economy with tourism.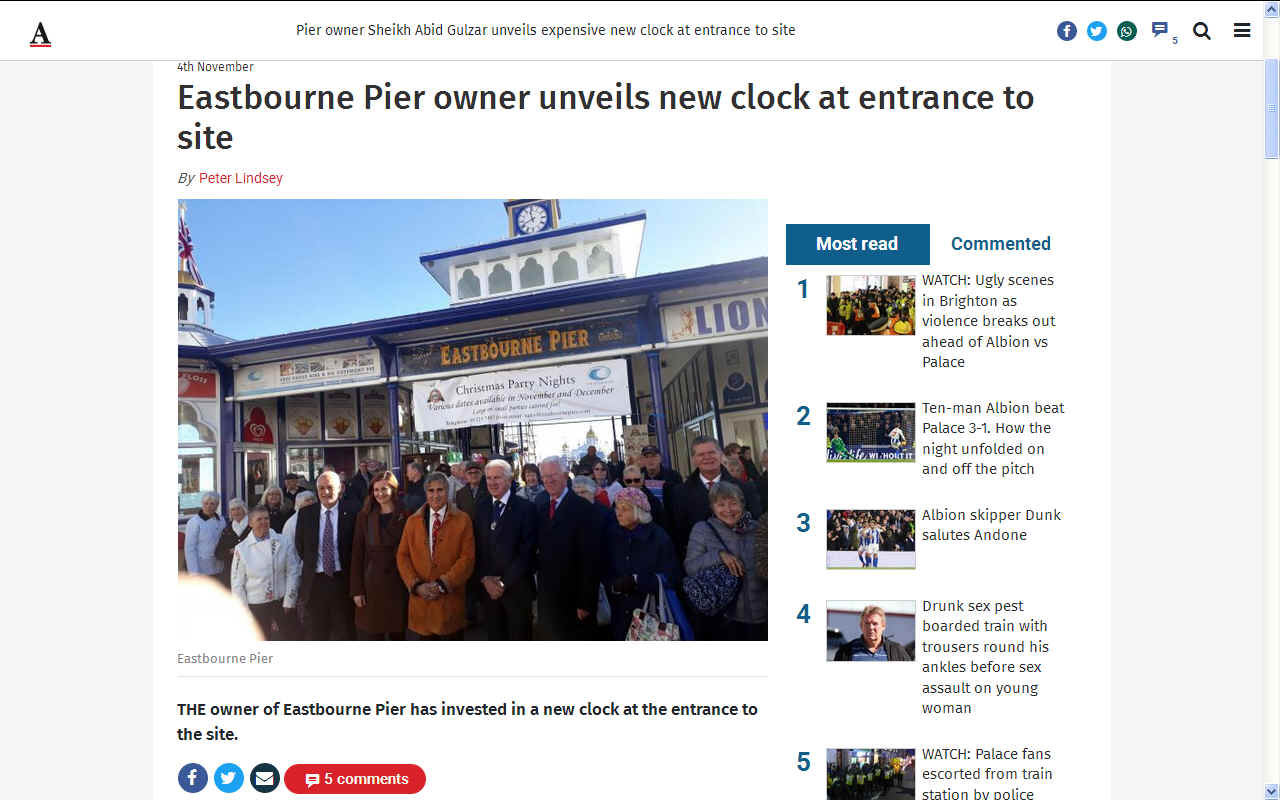 THE ARGUS 4 NOVEMBER 2018 - The owner of Eastbourne Pier has invested in a new clock at the entrance to the site. Sheikh Abid Gulzar welcomed around 100 members of the public for the unveiling on Friday.
Also present were Eastbourne MP Stephen Lloyd, council leader David Tutt and Councillor Jim Sheppard, vice chairman of the county council.

Mr Gulzar said: "I have invested heavily into the new clock. "It's very expensive and it has four faces so you will be able to see it whichever angle you are looking at it. "It's not been working for more than 15 years, which is a very long time. "Now it's up and can be seen, I hope people like the blue and gold colours. "I'm very proud of it, it's going to be a focal point for our wonderful town."

Mr Gulzar now also owns Hastings Pier and he has just applied for planning permission for five new retail units. The units are described in his application as 'log cabin' with glass windows and doors along with timber frames.

Mr Gulzar said: "We have to continue to make the open deck area of the pier more appealing. "That is why we want permission for these five temporary units on the pier. "We are asking for permission for five years and they will enhance the offering to people." By Peter Lindsey
It is against this background that Mr Gulzar, who is quoted as saying that Eastbourne pier was a: "white elephant" shortly before purchase, took up the gauntlet. This is despite his legendary battles with the Inland Revenue and Natural England, in times of austerity. For sure he is a maverick, bucking trends, while seeking to add his touch to whatever project he is involved in; namely the golden lions for which he is famous. We hope that he has the strength and determination to keep these two British icons in a better state of repair than those before him. In our view he needs all the help he can get, and that includes success in running his hotels, that will more than likely be subsidizing pier upkeep.
The towns of Hastings and Eastbourne will be expecting the pier operator to keep these heritage assets looking good, as they are two of the focal points of the seafront promenades that attracts those looking for a quiet respite and breezy walks looking out across the sea. The previous owners of Hastings pier were prosecuted for Health & Safety breaches. The two fires on Eastbourne pier must have stemmed from Health & Safety issues, since arson was ruled out. Hence, fire precautions and structural and electrical safety issues rank high.
One should not underestimate the challenges of running a national monument, where the onus is on the owner to keep the structure in good repair, regardless of financial negatives. Equally, the operators of national monuments owe a duty in United Nations terms under SDG14 concerning marine conservation, where coastal towns are also part of the European Union's Blue Growth agenda.
To better understand the scale of the challenge, read the history of the site (reproduced below) that led to the fire in 2010. BBC news reports show a downward spiral that could only end badly. Piers need a benefactor with deep pockets, or charity status such as to qualify for heritage grants. Undeniably, Sheikh Abid Gulzar is underpinning the upkeep of these coastal assets from his other enterprises, imbued with his intention to keep these piers special.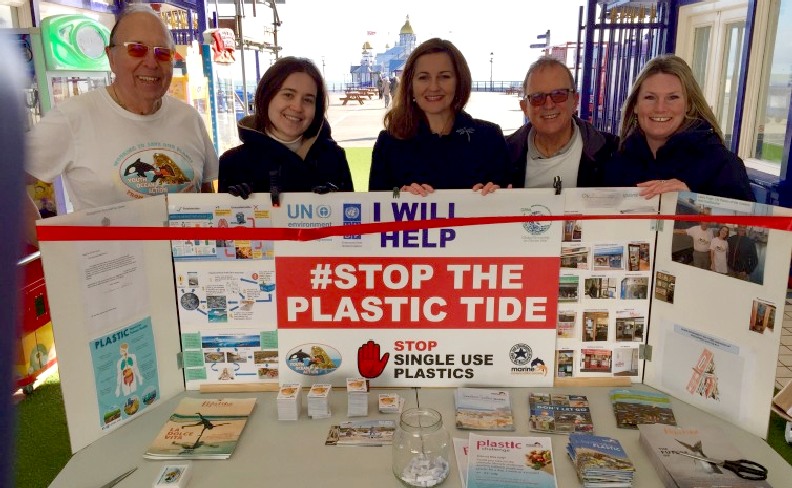 YOUTH OCEAN ACTION - The Pier owner supported an event in October 2018 organised by Andrew and Oksana Stuart who are planning an international event in May of 2019 in Eastbourne, Sussex, United Kingdom, involving young people to explore the dangers of plastic pollution that our Planet is facing today. Workshops will be organised to find viable solutions and offer policies to present to Governments and people all over our Planet.
Caroline Ansell cut the ribbon in a brief ceremony, with Oliver Sterno of Refill, Plastic Free Eastbourne participating. When Caroline Ansell was in Parliament, she was on the Environment Audit Select Committee and campaigned for the Beachy Head East Marine Conservation Zone. We need to stop as much plastic entering the oceans as possible, if projects like Boyan Slat's Ocean Cleanup Project and SeaVax are to stand any chance of reversing the damage we are doing and have done to marine life.
SUSSEX COASTAL HERITAGE CHAMPION AWARD
For being brave enough to take on both Eastbourne and Hastings piers, the Cleaner Ocean Foundation recognise Mr Gulzar's tenacity and commitment to serving the nation as Mister Ocean (Sussex Coastal Heritage Champion) in 2018. Thank you Mr Gulzar, for all your hard work in looking after these heritage assets. We know that it has not been easy. We also hope that it will not be so difficult in the future. Fingers crossed for you and your team.
CONTACT LIONS HOTELS
Central Reservations: 01323 748710 and Email: groups@lionhotels.co.uk
The Albany (Lions) Hotel - 01323 722788 Email: albany@lionhotelsltd.com

The Boship (Lions) Farm Hotel - 01323 844826 Email: boship@lionhotelsltd.com

The Mansion (Lions) Hotel - 01323 727411 Email: mansion@lionhotelsltd.com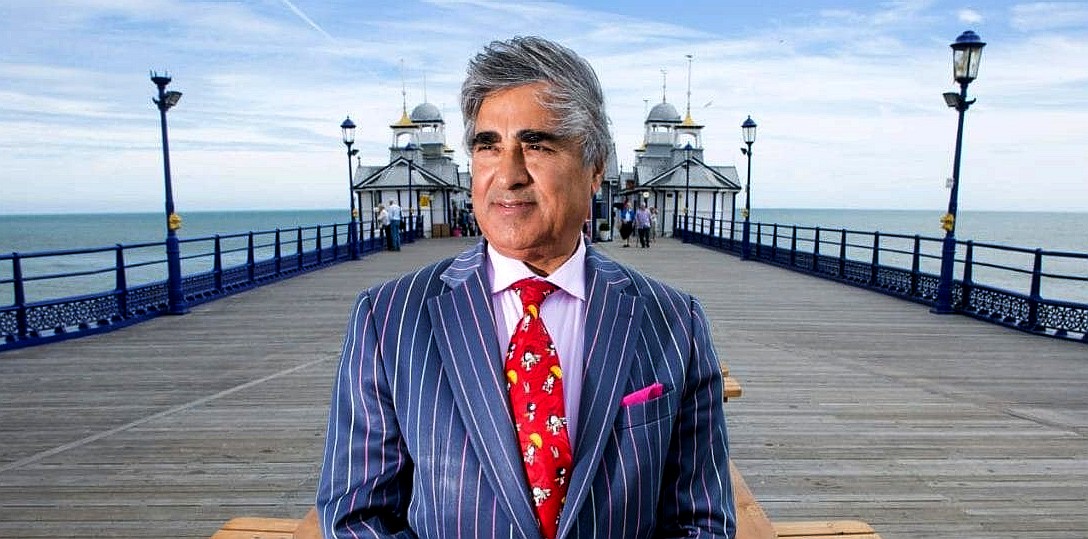 LONGEVITY - Showing no signs of weakening with age, Abid Gulzar is seen here in 2015 having just completed the purchase of Eastbourne pier. The vast expanse of wooden decking is where the Blue Room once stood. Wood is a great carbon lock in the fight against global warming, provided that forest are managed sustainably.
PIER BACKGROUND - BBC OCTOBER 5 2010

A major fire has destroyed most of Hastings Pier in East Sussex, a day after redevelopment plans were invited.

Two people have been arrested and detained for questioning.

Firefighters have been at the scene since the early hours attempting to save the historic structure. The fire was brought under control at 0800 BST.

A passing police patrol and local people raised the alarm at 0100 BST after seeing a small fire, but the pier was rapidly engulfed in flames.

Residents reported hearing a series of explosions.

The pier opened in 1872 and was originally 910ft (280m) long. It closed in 2006 because of fears it had become unsafe.

On Monday, the Hastings Pier and White Rock Trust invited architects to submit designs to redevelop the attraction.

Fire service spokesman Simon Rose said 95% of the upper structure had been destroyed.

Mr Rose said: "It's a very historic building and landmark for Hastings."

He said the priority for firefighters had been to preserve as much of the structure as they could "to see if something can be done with it in the future".

A fire crew was on the scene within five minutes of the first emergency call.

It was quickly joined by further crews, two RNLI lifeboats and the Sussex Police helicopter.

Some firefighters were taken to the scene by lifeboat.

Mr Rose said no-one was injured and the cause of the fire was still unknown.

Insp Lee Lyons said officers had come across the fire at the same time that fire crews were receiving the first emergency calls.

He said: "It was very small at that stage, but it took hardly any time to engulf the pier."

He said the entire ballroom had become a burning framework with bits dropping off into the sea.

The owner of a bed and breakfast opposite the pier said he heard a series of blasts as the structure caught fire.

Dale Turner, 55, who owns the Seaspray B&B, said: "This is the sort of thing people were worried about. The pier had been allowed to fall into ruin and now we may never get it back."

Campaigners had been fighting to secure the pier's future.

Earlier this year, Hastings Borough Council agreed to buy the pier with a compulsory purchase order and hand it to the Hastings Pier and White Rock Trust.

The pier was owned by Panamanian-registered company Ravenclaw, which the council said it had been unable to contact.

The decision followed a study which showed the sub-structure could be made safe for £3m.

After the fire, Councillor Jeremy Birch, leader of Hastings Borough Council, said: "We are very disappointed that this fire has taken most of Hastings Pier's upper levels with it.

"Firefighters have worked heroically to try and contain the blaze but unfortunately, because of the wind, the state of the pier and the danger of going on it, the fire really took hold."

He said the local authority would now look at a new structural survey in order to be absolutely clear on the degree of damage to the sub-structure.

Mr Birch said: "Then we can see what the future holds for this iconic building on our seafront."

Felix Robinson, outgoing chairman of the Hasting Pier and White Rock Trust, said it was a sad day for the town.

He said: "I always knew that the pier was at risk of fire, when it was closed and empty. But to actually see it go up in such a massive fire is very sad."

He said many people - some in their dressing gowns - had come out along the seafront and stood watching the blaze.
Shock and disbelief

"There was a sense of sadness," he said. "People were talking about the experiences they'd had in the past - and of course the ballroom at the end, which is completely gutted, was quite important for Hastings in a cultural sense."

The council and the trust vowed not to give up hope that something could be saved and spent the day in a series of meetings with the emergency services.

Mr Robinson said one part of the pier that was still standing was the area where people liked to gather as the sun went down.

"Piers have suffered fires in the past and been restored," he said. "And the reason is the cast iron pillars that go down into the seabed. They tend not to be too much affected by a fire of this nature."

Fire crews began to scale down their operation on Tuesday morning but the pier was still producing a thick plume of smoke.

People were advised to avoid inhaling the smoke unnecessarily by keeping away from the area, and residents should keep their doors and windows closed.

Police have been questioning two teenagers, aged 18 and 19 and both from St Leonards, on suspicion of arson.

Sixty firefighters were at the scene at the height of the incident. Their priority was to preserve as much as the structure, including the main steelwork, as possible.

Long traffic delays were reported around the area after the A259 was closed in both directions. Motorists were advised to make only essential journeys with the road closure due to remain in place for some time.

Campaigners have been writing about their shock and disbelief on the Facebook page, Save Hastings Pier, which has more than 1,600 members.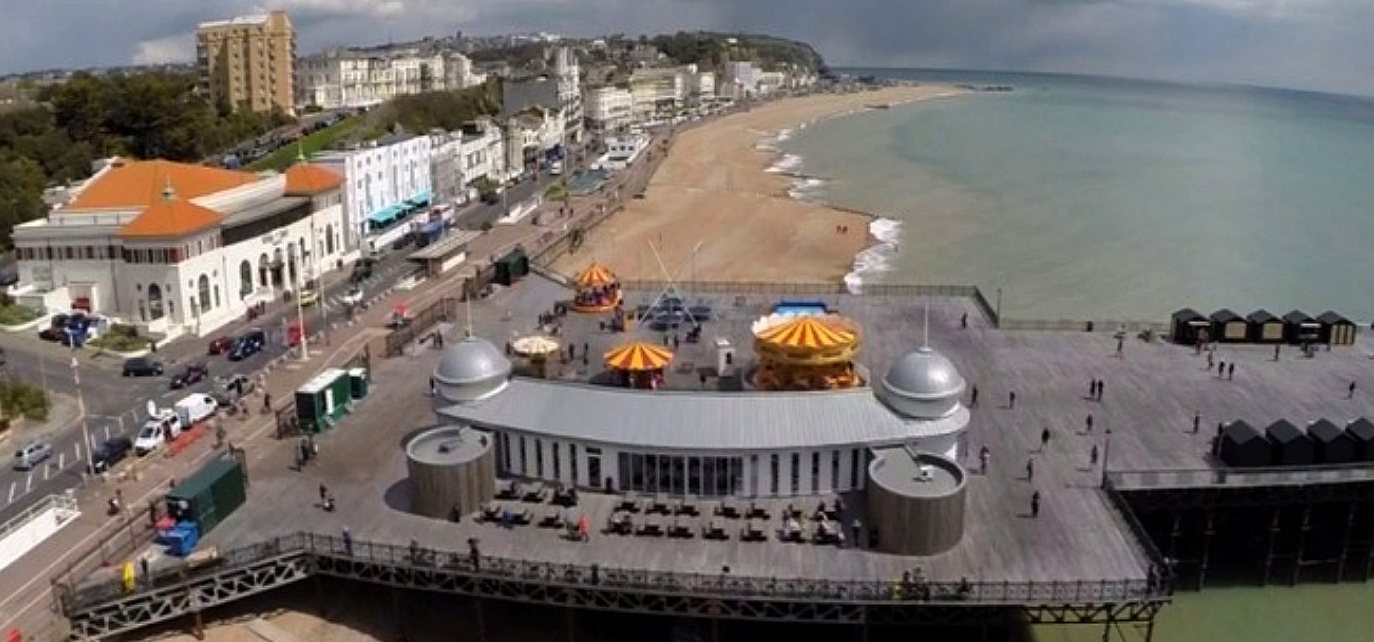 FAIR GROUND - Hastings is famous for its beach launched fleet and fishing heritage. All seaside towns focus on beach and water quality as part of the attraction for visitors. At the other end of the town there are copious arcades and fairground like attractions. There are fears that extending such activities to include the pier might make the town one giant circus attraction.
BBC JULY 13 2010

Hastings council has agreed buy the town's pier and hand it over to a trust to carry out essential repairs.

Campaigners have been fighting to secure the pier's future since it shut in 2006 amid fears it could collapse.

The council agreed to issue a compulsory purchase order against the pier's offshore owners after a study showed it could be made safe for £3m.

It will then hand it over to Hastings Pier and White Rock Trust (HPWRT) to carry out the work.

The pier is owned by Panamanian-registered company Ravenclaw, which the council has been unable to contact to discuss its future.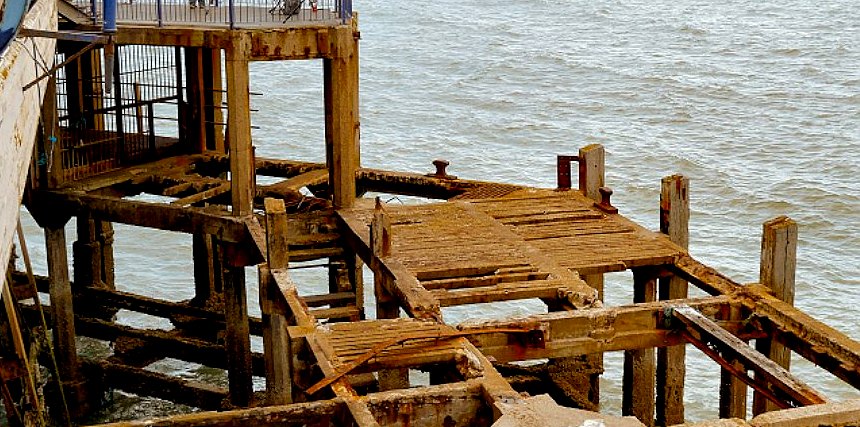 DERELICT - This is the former landing stage at the ocean end of Eastbourne pier. Many years ago boat rides were one of the great attractions. There is not the money to restore this area. Though, in the beginning it was one of the ideas that Mr Gulzar was considering when fresh to the pier restoration challenge.
BBC MARCH 13 2008

Hastings council has agreed buy the town's pier and hand it over to a trust to carry out essential repairs.

Campaigners have been fighting to secure the pier's future since it shut in 2006 amid fears it could collapse.

The council agreed to issue a compulsory purchase order against the pier's offshore owners after a study showed it could be made safe for £3m.

It will then hand it over to Hastings Pier and White Rock Trust (HPWRT) to carry out the work.

The pier is owned by Panamanian-registered company Ravenclaw, which the council has been unable to contact to discuss its future.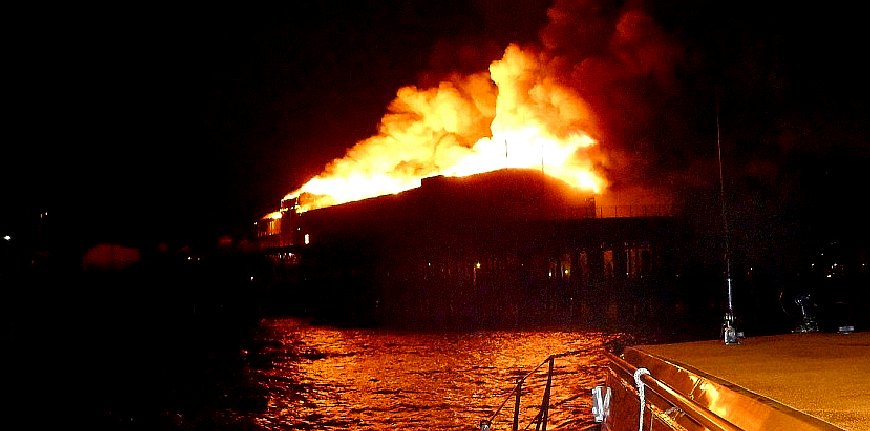 ON FIRE - The pier at Hastings on fire in 2010. Why it is that piers are so prone to catching alight is a mystery where they are steel structures surrounded by water.
BBC DECEMBER 4 2007

Hastings Pier is at high risk of being damaged in heavy weather, a structural survey has found.

The Victorian structure in East Sussex was closed by Hastings Council in June 2006 amid fears it could collapse.

It had the structure surveyed after a court found the pier's owner had breached safety laws.

The council has heard the pier is under threat and it will not be able to meet the repair and maintenance costs of £13.6m over a 10-year period.

The survey found the pier was threatened by corrosive salt spray, and a lack of rigidity also put it at risk if was hit by a vessel or extreme storms and tides.

Papers submitted to the cabinet said divers had examined the piles of the pier, and surveyors had also examined its underside.

Escalating costs

Councillors heard that the pier was "traditionally a place of entertainment and its future would appear to be firmly linked to this purpose".

The report said if the pier was retained it "must have a communal significance", while any changes would need to take its heritage into account.

The survey found it would be "impossible for the council to shoulder costs on the scale identified", and more research would be necessary.

It came after a court case last month where the pier's owner and operators were convicted of breaching safety laws.

Incorporated Ravenclaw Investments and operators Boss Management (UK) Ltd were fined £80,000 plus costs.

The consultant's survey of the structure is now being put on the authority's website to encourage "maximum debate" about the pier's future.

Discussions are also being held with heritage groups and businesses.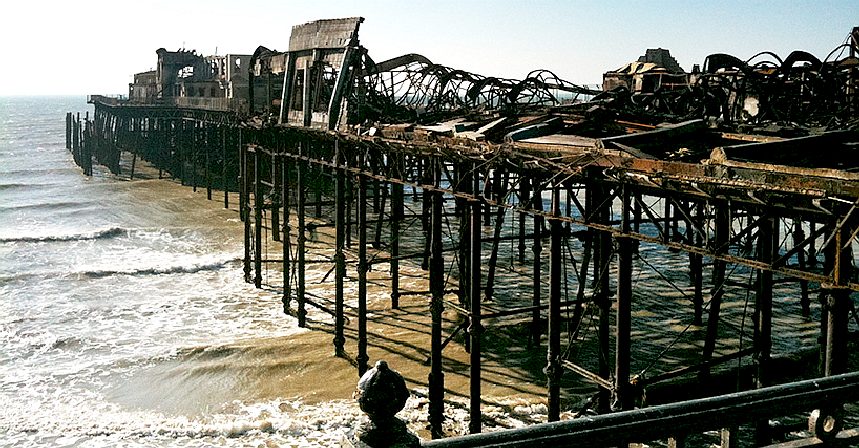 EYESORE - This tangled wreckage is all that was left after the blaze. Oddly enough, the wreck attracted almost as many visitors to Hastings as when the pier was operating.
BBC NOVEMBER 2007

The owners and operators of Hastings Pier have been convicted of breaching the Health and Safety at Work Act.

The Victorian structure in East Sussex was closed by Hastings Council in June 2006 amid fears it could collapse.

A judge at Hove Crown Court said if it had not been shut there could have been serious injury or loss of life.

On Thursday, owners Incorporated Ravenclaw Investments and operators Boss Management (UK) Ltd were fined £80,000 plus costs.

The pier partly re-opened in July this year after Stylus Sport, the owner of a bar on the pier, and Hastings Borough Council funded repairs.

The council had closed the central section of the pier in the interests of public safety on 16 June 2006 using emergency powers.

After the hearing, Kevin Boorman, a spokesman for Hastings Borough Council, said: "This is clearly a huge fine, and shows how seriously the court viewed the offences.

"As the court heard, we tried for several months to work with the pier owners, to no avail.

"Because of our concerns over public safety, we ultimately had no option other than to use our legal powers.

"Public safety has only ever been our concern, and this verdict, and fine, completely vindicates our position."

Talks to be held

He added that the council now needed to move forward.

Mr Boorman said: "In the absence of the survey carried out by the pier owners, we have commissioned a full structural survey ourselves.

"The physical work has been completed, and we are awaiting the publication of the survey."

He said the authority would then know the cost of repairing and maintaining the pier and would be able to talk with interested parties "with some confidence about the various options".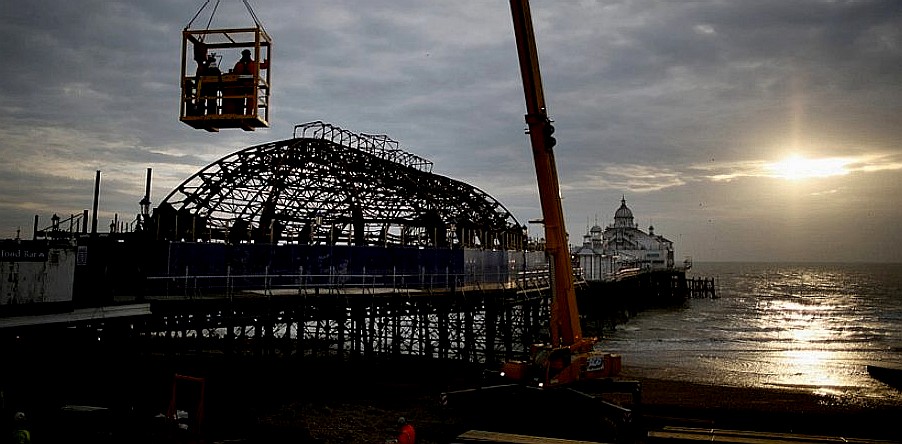 THE ASHES - As the sun goes down on another day of work on Eastbourne pier, the scale of the re-construction challenge is dawning on the operators. permission was granted to remove the twisted steel on the understanding that a similar structure would replace it.
BBC JULY 4 2007 - PIER BINGO & BAR SET TO REOPEN

A judge has granted the reopening of a bingo hall and bar on an East Sussex pier after council engineers said they were satisfied with repair works.

The central section of Hastings Pier has been closed for a year after the borough council used emergency powers to shut it because of safety concerns.

Repairs underneath the bingo hall and Bar Luxor were funded by the premises' owner, Stylus Sports, and the council.

The facilities are now due to reopen to the public on Friday evening.

Peter Hargreaves, managing director of Stylus Sports, said: "This is not just good news for us but also for the future of the pier in general."

Health and safety case

Mr Hargreaves committed £200,000 to the repair work because he felt it was essential to have at least part of the pier up and running again for the summer trading season.

The application to reopen the bingo and bar facilities was granted on Wednesday at Hastings Magistrates' Court.

It followed an early morning visit by council and Stylus Sports engineers to inspect the repairs.

Council spokesman Kevin Boorman said: "Safety of the pier has always been our only consideration... we wish Stylus Sports well and welcome the initiative that has been taken."

The company carried out the repairs itself because the pier's owner, Ravenclaw Investments, had failed to do so.

A health and safety case against Ravenclaw is due to be heard in court next week.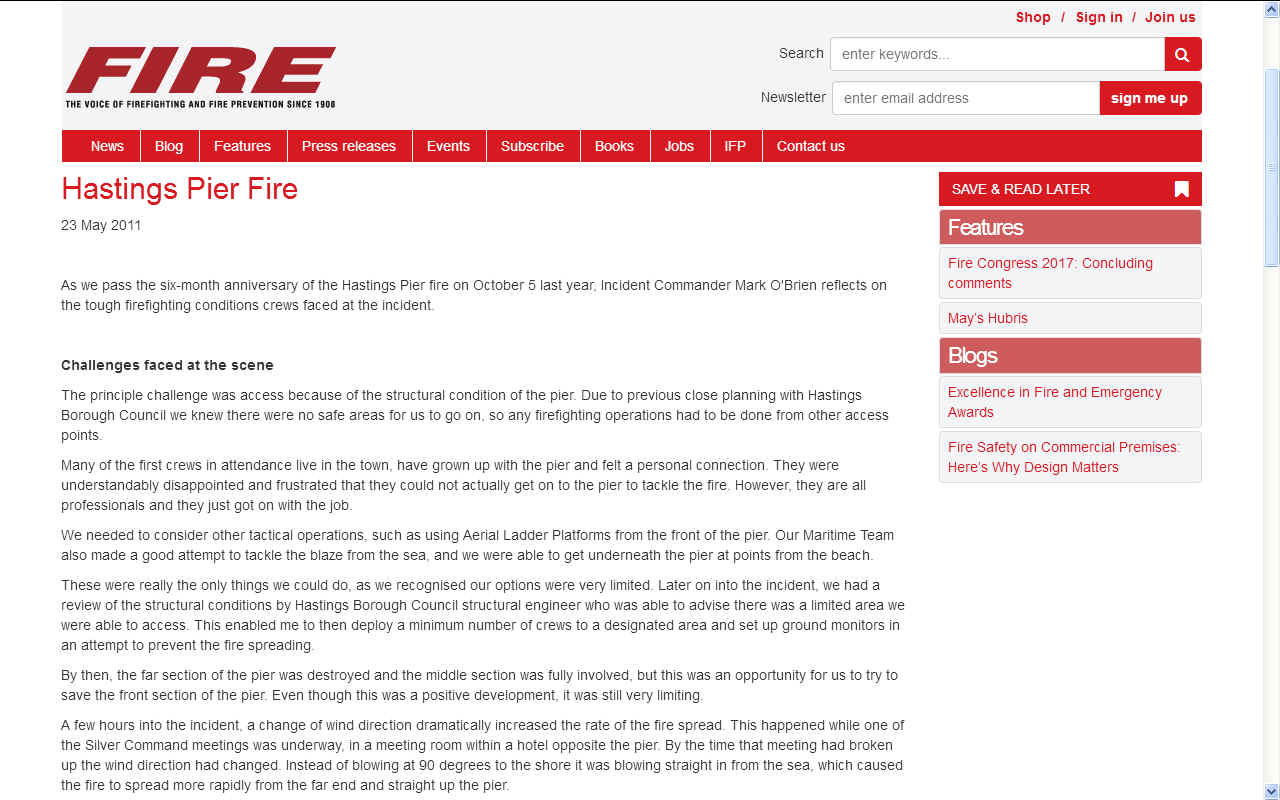 FIRE MAGAZINE - HASTINGS PIER FIRE 23 MAY 2011

As we pass the six-month anniversary of the Hastings Pier fire on October 5 last year, Incident Commander Mark O'Brien reflects on the tough firefighting conditions crews faced at the incident.
Challenges faced at the scene

The principle challenge was access because of the structural condition of the pier. Due to previous close planning with Hastings Borough Council we knew there were no safe areas for us to go on, so any firefighting operations had to be done from other access points.

Many of the first crews in attendance live in the town, have grown up with the pier and felt a personal connection. They were understandably disappointed and frustrated that they could not actually get on to the pier to tackle the fire. However, they are all professionals and they just got on with the job.

We needed to consider other tactical operations, such as using Aerial Ladder Platforms from the front of the pier. Our Maritime Team also made a good attempt to tackle the blaze from the sea, and we were able to get underneath the pier at points from the beach.

These were really the only things we could do, as we recognised our options were very limited. Later on into the incident, we had a review of the structural conditions by Hastings Borough Council structural engineer who was able to advise there was a limited area we were able to access. This enabled me to then deploy a minimum number of crews to a designated area and set up ground monitors in an attempt to prevent the fire spreading.

By then, the far section of the pier was destroyed and the middle section was fully involved, but this was an opportunity for us to try to save the front section of the pier. Even though this was a positive development, it was still very limiting.

A few hours into the incident, a change of wind direction dramatically increased the rate of the fire spread. This happened while one of the Silver Command meetings was underway, in a meeting room within a hotel opposite the pier. By the time that meeting had broken up the wind direction had changed. Instead of blowing at 90 degrees to the shore it was blowing straight in from the sea, which caused the fire to spread more rapidly from the far end and straight up the pier.

It was always going to be extremely difficult to save the pier because of the access, wind conditions and wooden construction, but crews did a fantastic job preventing that last section being destroyed.
Maritime Team

One of our tactical options was to call upon the assistance of the Maritime Team from Newhaven. The idea was for the team to take the service's light portable pumps out to sea and fight the fire from an RNLI lifeboat. They were able to put water on the structure, but unfortunately this had a limited effect. When the weather conditions changed, it became too dangerous for the crews to remain out at sea and they had to return to shore. However, it was a legitimate tactical option and it was worth an attempt.

Due to problems with water supply, we needed to bring in the water bowser, from Uckfield, which was used to good effect. It was not an option on this occasion to take the water from the sea, although at previous incidents it has been done. However, due to the poor weather conditions on the day using LPPs from the sea was not an option.

Southern Water was in attendance, providing advice about the use of hydrants and mains access. We needed to boost water pressure in the mains, as this was an issue for most of the incident.

There was a lot of public and media interest very quickly and a steady build up of passers-by. We worked closely with Sussex Police to set up necessary cordons and the police managed these, although this proved quite a challenge for them due to the large crowds that descended. The other issue concerning all agencies was the huge amount of smoke drifting across the town. We worked with the police and local authority to give the necessary advice for police to warn members of the public.

We were content that the fire was never going to spread to properties along the seafront. However, we were concerned about an underground car park along the promenade where cars were still parked. Crews were deployed to ensure there was no fire spread to this area.
Learning from the experience

The advice we would offer to other fire services is a reminder that piers represent a particular risk and particular challenges. Pre-planning is essential in making sure you have the most up-to-date information and that all crews are aware of this. The other vital thing is making full use of the benefits other partner agencies can bring to the incident.

Both the Coastguard and the RNLI were deployed due to reports of people on the pier, which later were found to be incorrect. However, they were happy to remain on site for the duration and fire crews were able to get nearer to the pier by going out on the lifeboat.

South East Coast Ambulance, supported by their new Hazard Area Response Team, attended as well as the water board. Due to the scale of the incident, as well as the disruption, political interest and characteristics of the incident, it was very much a multi-agency response. We were the primary agency there but we were fully supported by the other agencies.
Dealing with the media

Media issues went really well and it was clear early on that it would be a large-scale incident with huge media interest. ACFO Gary Ferrand attended, and he was able to offer me support and guidance and was able to deal with the political and media fallout. The communication between the Hastings Borough Council team and our team worked fantastically. This was a great weight off my shoulders; there was a professional voice in place dealing with all of the media enquiries.
The aftermath

Due to limited access on the pier itself, one of the ways we could attack the fire and hotspots was from underneath via the beach. However, the tide times dictated our firefighting tactics as the incident scaled down.

This was always going to be a challenging incident, what with access to the structure and wind conditions - all those things were going to make it incredibly difficult. The fact we were able to save the near end of the pier with no serious injuries to fire crews demonstrated it was a well coordinated multi-agency response.

We have since had positive feedback from the local authority and from the Pier Trust, who both praised our efforts in trying to save the pier.

Thank you

I would like to publicly thank all the crews, who all worked extremely hard and did everything within their power to save the pier. It was a tremendous effort. Everyone was constantly thinking about other options. Crews were on scene for a long time and at no point were there any complaints about that. I was extremely proud of our crews - they all did a fantastic job in difficult circumstances.
The future of Hastings Pier

It has been reported that a firm of architects has been chosen for the possible rebuild of Hastings Pier. However, this will be dependent on the Pier Trust securing a multi-million pound lottery bid for the architects to move forward with their plans. Posted: 09.35am, 23.05.11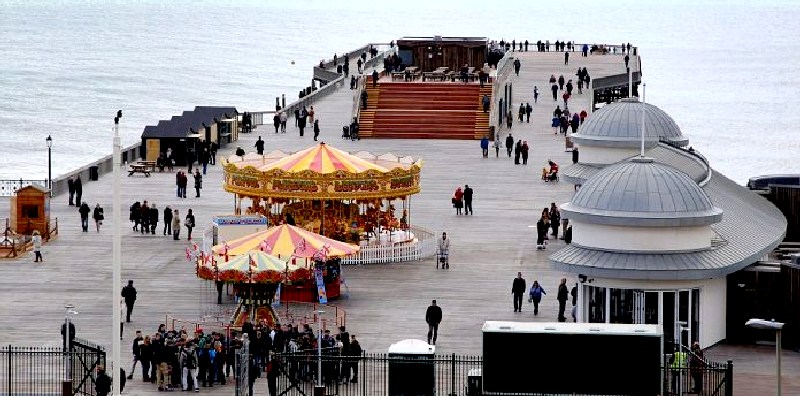 OUT OF KEEPING - Fairground rides are not in keeping with this part of Hastings town. Fun fairs are energy intensive and so harmful in terms of global warming. The uncluttered appearance and architectural purity should be maintained for long-term heritage appreciation. There are many alternatives to circus like events, that are more in keeping with ocean and heritage conservation ideals.
LINKS & REFERENCE
https://www.eastsussex.gov.uk/
https://www.lewes-eastbourne.gov.uk/contact-us/
https://www.hastings.gov.uk/
https://www.fire-magazine.com/hastings-pier-fire
https://www.bbc.co.uk/news/uk-england-sussex-11473688
http://news.bbc.co.uk/1/mobile/england/sussex/7293510.stm
http://news.bbc.co.uk/nol/ukfs_news/mobile/newsid_7120000/newsid_7126400/7126412.stm
http://news.bbc.co.uk/nol/ukfs_news/mobile/newsid_6270000/newsid_6270800/6270828.stm
http://news.bbc.co.uk/nol/ukfs_news/mobile/newsid_7070000/newsid_7073000/7073049.stm
Copyright © Cleaner Oceans Foundation Ltd (COFL) (Company No: 4674774) 2019. Ocean Suite, BN271RF, United Kingdom.